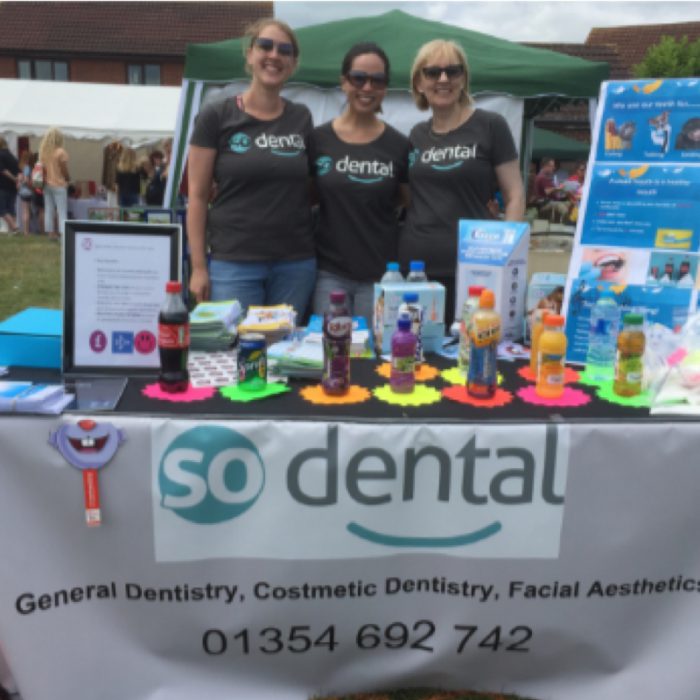 Newsletter
Welcome to our second practice newsletter and thank you for taking the time to read it. We decided over the summer holidays to get into the community and educate our local children on how to best look after their teeth. One of the highlights of the summer was attending the Chatteris Midsummer Festival and meeting so many of our patients outside of the surgery.  A fun day was had by all with our dental nurse Gemma, our hygienist Veronica and myself playing the sugar game with the children and handing out dental goodies for all to try.
Another highlight for us was opening our doors to the Chatteris Rainbow Group. Eighteen 6-8 year-olds joined us for a fun filled evening of activities, learning about the hidden sugars that lurk in their everyday drinks and teaching the basic principles of tooth brushing. For some of the participants it was their very first time visiting a dental practice and hopefully for them this visit would have dispelled any fears about visiting the dentist for the first time.
At So Dental we don't want any of our children to suffer from toothache and we take a holistic approach in our planning of age appropriate, bespoke care. We know that it is important to give children the best start in life with keeping a healthy mouth through healthy eating. We see Children Under 6 free and our plans starting from £3.50 per month offer children the opportunity to start their dental journey early – regular dental assessments and Oral Hygiene sessions – with the assurance that we will be taking care of their teeth at every stage.
Did you know facts for our kids…………..  The maximum daily amounts of added sugar are:
Try swapping sugary drinks for water or milk. If you pour the healthier drink into a cup or glass, they may not notice it is different to the one they are used to. Kids are often hungry after school so it's an idea to put together some healthier snacks for them such as a fruit or savoury snack. Then, if they are tempted by sweets and cakes, you've got a healthier alternative to offer.
Did you also know
There are apps available to help your child (with your supervision):
Here's a healthy recipe for you to try.
It's full of natural sugars, which are better than the refined sugars in bought alternatives, so let us know if
your family like it!!!
Frozen Banana Smoothie (taken from Dawn Quest's www.MealsOurKidsLove.com)
(Makes 1 serving – You can use bananas straight out of the fruit bowl for this, but for a thick and creamy
smoothie, freeze sliced ripe banana overnight in the freezer.)
INGREDIENTS
1 banana (cut into slices and frozen overnight)
1 mug of milk or dairy alternative
1 tablespoon of porridge oats (optional)
Instructions:
Blend on high speed until smooth and creamy (about 2 to 3 minutes)